Antennas
Bad Elf GPS Module for iPod touch, iPhone, & iPad (Not Included)
Bad Elf GPS Module for iPod touch, iPhone, & iPad (Not Included)
| | |
| --- | --- |
| | |
Details
Santa can trade in reindeer — he can now rely on one Bad Elf. Designed for Apple users, the Bad Elf GPS is an add-on accessory module that provides high-sensitivity and high-accuracy GPS for your iPad, iPhone, or iPod Touch. It easily plugs in to your device, giving you ultimate location awareness anywhere you go. You can even enhance it with apps and software (sold separately) for automotive navigation and more!
Simple to use. Easy to enjoy.
Bad Elf creates high quality, dependable products consistent with Apple's philosophy of "It just works!" Just plug in your Bad Elf GPS and go play. No complicated setup. No batteries to charge. No hassles.
Made for every iOS device.
The Bad Elf GPS is the best selling Apple-approved external GPS accessory designed to directly connect to your iPad, iPod touch and iPhone. The Bad Elf GPS accessory plugs into the dock connector and allows Apps to read your current location. To simplify your search for great Apps, Bad Elf has categorized many Apps that work well with a Bad Elf GPS by your favorite activities.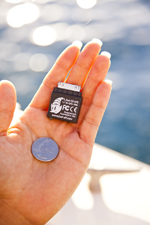 Form Factor
About the size of a Quarter (US) or Euro (EUR) coin
Approximately the same thickness as your iPad, iPhone, or iPod touch
Highly portable with a detachable lanyard for safe-keeping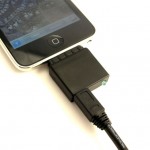 Micro USB
Enables charging of iOS device
Allows syncing of iOS device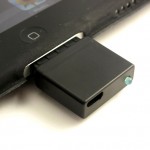 Fit
Connects to standard Apple 30-pin connector on the iPad, iPhone, and iPod touch
Compatible with most protective cases, arm bands, and car kits — as long as they do not obstruct the 30-pin dock connector.
Please Note: The Bad Elf GPS adds a GPS receiver to a compatible device. It does not include maps or software for navigation, which much be purchased separately.
MPN: BE-GPS-1000 UPC: 793573991850
Package Includes
Package contains:
BE-GPS-1000 GPS device
3ft (90cm) Micro-USB cable for charging and syncing
Detachable Keychain Lanyard
Getting Started Card
Tech Specs
GPS Technical Specs:
Fast GPS lock times (45 seconds or less)
2.5 meter accuracy
60k feet maximum altitude
1000 MPH maximum speed
Up to 10Hz position update rate
66-channel MTK GPS chipset
SBAS/WAAS/EGNOS/MSAS
Product Specs:
Micro-USB port
Green status LED
30-pin dock connector
Upgradeable Firmware
Support for Assisted GPS
Dimensions: 1" x 1.3" x 0.3" (33mm x 27mm x 10mm)
Compatibility:
iPod touch (1st, 2nd, 3rd, & 4th generations)
iPhone 4S, iPhone 4, iPhone 3GS, iPhone 3G, & iPhone
iPad (3rd generation), iPad 2, iPad
Reviews
FAQ
"Great selection, unbeatable prices, fast shipping. I am extremely happy with Tiger GPS and am recommending them to everyone I know."
- Gary, West Virginia
"Prompt shipment, great communication and a willingness to work for the customer. I would definitely highly recommend Tiger GPS!"
- Karen, California
"It arrived earlier than I expected. I also like the fact that I got e-mail from them confirming my order and giving me their contact info right away. It seemed personalized which I like."
- Stephen, Massachusetts
"The most informative site I have come across. Prices are amazing too - not sure why you would shop for GPS anywhere else."
- Wendy, Louisiana
"These guys know their stuff. They answer their phone right away, and the knowledgeable reps helped me pick the right GPS and even saved me some money!"
- Robert, New York
"No other site is willing to ship to a military APO address, and GPS is crucial out here. Great prices - thank you for supporting the troops."
- Edwin, USMC in Iraq