Wrist / Fitness GPS
Garmin Approach G3 Handheld GPS Golfing Companion
Garmin Approach G3 Handheld GPS Golfing Companion ON SALE WHILE STOCK LASTS
| | |
| --- | --- |
| | |
Details
Give your game a boost of confidence with the Garmin Approach G3, a rugged, waterproof, touchscreen golf GPS packed with thousands of preloaded golf course maps. Approach uses a high-sensitivity GPS receiver to measure individual shot distances and show the exact yardage to fairways, hazards and greens. Now with over 19,500 courses - click here for a complete list!
Fits Perfectly in Your Pocket
A bit smaller and lighter than the Approach G5, Approach G3 is ideal if you prefer to walk the course. Still as rough and rugged as its big brother, Approach G3 lightens your load no matter how you get around the course.
Eliminate the Guesswork
Approach displays and updates your exact position on stunningly detailed, preloaded course maps throughout the United States. Approach's highly sensitive GPS receiver pinpoints your position and removes guesswork from your game. And as you move, Approach automatically updates your position, so you'll always know your yardage. There's no subscriptions or setup fees, and Approach is compliant with USGA rules.
Touch Your Target
Need to measure distances for your next shot? Touch any point on the sunlight-readable display, and Approach shows the precise distance to that exact spot—fairway, hazard, landing area, or the front, middle and back of the green.
Get on the Green
Approach helps you zero in on the pin with Approach's Green View. Just tap the flag on the map to zoom in on the green — then you can drag the flag to position it where you see it, giving you more accurate yardage.
Keep Score Digitally
Approach doubles as a digital scorecard for your foursome. After the game, you can save and review the scores on your computer at home.
Add More Courses
Garmin is constantly adding more courses to the map data, as well as updating and improving course maps for Approach G3. Download the latest courses for free.
Garmin Approach G3 Frequently Asked Questions (FAQs)
Q: Will my Approach G3 device keep track of my score during play?
A: The Approach G3 allows up to four players' scores to be recorded during play; however, the Approach G3 will only save the last game played. Once a new game begins, the previous game is saved to the internal memory and may only be viewed by connecting the device to a computer.
Q: What part of the green does the Approach G3 calculate distance to?
A: Because pin locations change, the Approach calculates the distance to the middle of the green.
Q: What is Touch Targeting on the Approach G3 and how do I use it?
A: The map page of the Approach G3 shows an overview of the current hole that is being played. The user is able to pan the map and view the distance to the middle of the green or any other point on the map.
Q: Is the Approach G3 compliant with USGA rules?
A: Yes, the Approach G3 is compliant with United States Golf Association rules.
Q: How long is the battery life in the Approach G3?
A: The battery life for the Approach G3 is approximately 15 hours.
Q: Can I load additional mapping onto the Approach G3?
A: The Approach G3 does not allow for the uploading of additional mapping such as City Navigator or Topographic maps. It is intended to function solely as a golf aid.
Q: How do I request a golf course for the Approach G3 or report an error within a course?
A: There is a Golf Course Report Form available on the Garmin website by clicking here.
Q: What is the difference between the Approach G3 and Approach G5?
A: The Approach G3 is smaller and lighter than the G5, and the G3 only has U.S. golf courses pre-loaded. See below for an approximate size comparison:
Garmin Approach G3 and Garmin Approach G5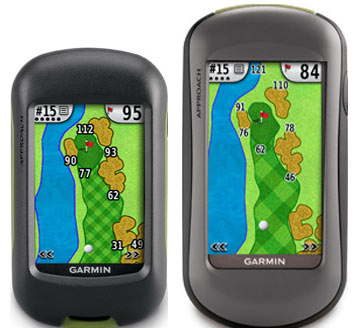 MPN: 010-00781-20 UPC: 753759100803
Package Includes
What's in the Box:
Approach G3
Belt clip
USB cable
Quick start manual
Tech Specs
Physical & Performance:
Unit dimensions, WxHxD:
2.2" x 3.9" x 1.3" (5.5 x 10 x 3.3 cm)
Display size, WxH:
1.43" x 2.15" (3.6 x 5.5 cm); 2.6" diag (6.6 cm)
Display resolution, WxH:
160 x 240 pixels
Display type:
Transflective color TFT touchscreen
Weight:
5.3 oz (148.8 g) with batteries
Battery:
2 AA batteries (not included); NiMH or Lithium recommended
Battery life:
up to 15 hours
Waterproof:
yes (IPX7)
High-sensitivity receiver:
yes
Interface:
USB
Maps & Memory:
Preloaded course maps:
yes (U.S. only)
Course capacity:
unlimited
Features:
Touchscreen:
yes
Touch-targeting (touch target on display to see the distance to any point):
yes
Manual pin positioning (tap and drag flag on green for precise yardage):
yes
Course preview (see detailed, hole-by-hole preview) :
yes
Digital scorecard (keep score for up to four players) :
yes
Computer scorecard review (save and review scores on computer) :
yes
USGA and R&A compliant (legal under the Rules of Golf) :
yes
Reviews
You May Also Be Interested In...
"Great selection, unbeatable prices, fast shipping. I am extremely happy with Tiger GPS and am recommending them to everyone I know."
- Gary, West Virginia
"Prompt shipment, great communication and a willingness to work for the customer. I would definitely highly recommend Tiger GPS!"
- Karen, California
"It arrived earlier than I expected. I also like the fact that I got e-mail from them confirming my order and giving me their contact info right away. It seemed personalized which I like."
- Stephen, Massachusetts
"The most informative site I have come across. Prices are amazing too - not sure why you would shop for GPS anywhere else."
- Wendy, Louisiana
"These guys know their stuff. They answer their phone right away, and the knowledgeable reps helped me pick the right GPS and even saved me some money!"
- Robert, New York
"No other site is willing to ship to a military APO address, and GPS is crucial out here. Great prices - thank you for supporting the troops."
- Edwin, USMC in Iraq