Software & Charts
Garmin City Navigator Street Maps Software on Disk & Data Card
Garmin City Navigator NT Europe Pre-Programmed Data Card
Garmin City Navigator NT Europe Pre-Programmed Data Card
| | |
| --- | --- |
| | |
Details
Garmin's City Navigator NT Europe now comes on pre-programmed microSD card with SD adapter for ultimate convenience. Simply pop the card into your unit and you're good-to-go, anywhere across the pond!
MapSource features include:
New! Expanded coverage now includes Eastern Europe
New! Now with full coverage for Spain and Portugal
New! Expanded address ranges for Belgium
New! Now includes 7.3 million KM of road coverage
New! Now includes 1.3 million POIs
Expanded coverage in Finland, Ireland, Portugal, Spain, and the Czech Republic
Expanded points of interest for the U.K.
Detailed maps of major metropolitan areas in Europe, including motorways, national and regional thoroughfares and local roads
Turn restrictions and speed categories
Updated points of interest such as:
food and drink
lodging
border crossings
petrol stations
hospitals and more
With this purchase, you'll have access to the entire DVD coverage.
Will automatically create point-to-point routes in MapSource and on your compatible GPS
Enhances pronunciation data for compatible GPS devices that can speak street names (example: "Turn right on Main St."). Your GPS device must be able to speak street names to use this data.
Map Coverage: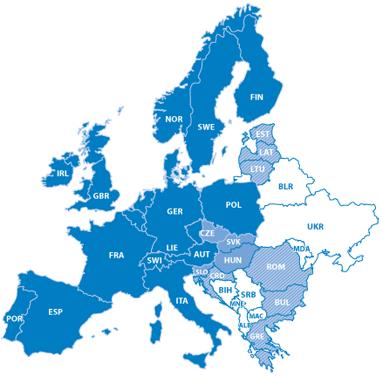 Coverage Includes:
Great Britain and Republic of Ireland
Great Britain: Full coverage
Isle of Man
Northern Ireland: Full coverage
Ireland: Full coverage
Channel Islands

Denmark, Finland, Norway, and Sweden
Denmark: Full coverage
Finland: Full coverage
Norway: Full coverage
Sweden: Full coverage

Germany
Germany: Full coverage
France and Benelux
France: Full coverage
Belgium: Full coverage
Netherlands: Full coverage
Luxembourg: Full coverage

Italy, Austria, Switzerland, and Liechtenstein
Italy: Full coverage
Austria: Full coverage
Switzerland: Full coverage
Liechtenstein: Full coverage
Spain and Portugal
Spain: Full coverage
Portugal: Full coverage (Continental Portugal not including Azores and Madeira)
Andorra
Gibraltar
Czech Republic
Czech Republic: Bradlec, Brno, Dalovice, Josefuv Dul, Karlovy Vary, Kosmonosy, Mlada Boleslav, Ostrava, Prague, Praha, Plzen and Repov
Greece
Greece: Athens

Eastern Europe
Estonia: Detailed coverage of Tallinn
Latvia: Detailed coverage of the capital city of Riga
Lithuania: Detailed coverage of the capital city of Vilnius
Poland: Full Coverage
Slovakia: Detailed coverage of Bratislava and Kosice
Hungary: Detailed coverage of the Greater Budapest area, the Balaton area, Debrecen, Miskolc, Eger and Tokaj
Slovenia: Detailed coverage of Ljubljana and Maribor
Croatia: Detailed coverage of Zagreb, Rijeka and Pula, Split, Selin, Zadar, Dubrovnik and the Island of Krk
Bulgaria: Detailed coverage of capital city of Sofija
Romania: Detailed coverage of Bucuresti (Bucharest) and Timisoara
Moldova: Major Roads Only
Serbia & Montenegro: Major Roads Only
Albania: Major Roads Only
Macedonia: Major Roads Only
Ukraine: Major Roads Only
City Navigator contains general map detail for most cities and towns throughout Europe. Metro areas listed are covered in the greatest detail.
Works with the following Garmin models:
Astro; Edge 605/705; eTrex: Legend Cx, Legend HCx, Vista Cx, Vista HCx, Venture Cx; GPSMAP: 76CSx, 76Cx, 60CSx, 60Cx; iQue: 3000, M3, M4; nuvi: all models EXCEPT 300 and 600 series; Rino 520HCx/530HCx, StreetPilot: 7200/7500; c320, c330, c340; c530, c550, c580; i2, i3, i5; zumo 450/550.
MPN: 010-10680-50 UPC: 753759066451
Reviews
"Great selection, unbeatable prices, fast shipping. I am extremely happy with Tiger GPS and am recommending them to everyone I know."
- Gary, West Virginia
"Prompt shipment, great communication and a willingness to work for the customer. I would definitely highly recommend Tiger GPS!"
- Karen, California
"It arrived earlier than I expected. I also like the fact that I got e-mail from them confirming my order and giving me their contact info right away. It seemed personalized which I like."
- Stephen, Massachusetts
"The most informative site I have come across. Prices are amazing too - not sure why you would shop for GPS anywhere else."
- Wendy, Louisiana
"These guys know their stuff. They answer their phone right away, and the knowledgeable reps helped me pick the right GPS and even saved me some money!"
- Robert, New York
"No other site is willing to ship to a military APO address, and GPS is crucial out here. Great prices - thank you for supporting the troops."
- Edwin, USMC in Iraq