Software & Charts
Garmin City Navigator Street Maps Software on Disk & Data Card
Garmin City Navigator NT United Kingdom & Ireland Data Card
Garmin City Navigator NT United Kingdom & Ireland Pre-Programmed Data Card
| | |
| --- | --- |
| | |
Details
City Navigator NT United Kingdom & Ireland now comes on pre-programmed microSD card with SD adapter for ultimate convenience. Contains:
Detailed map coverage for Great Britain and Republic of Ireland containing full coverage of Great Britian, Isle of Man and the Channel Islands. Great Britain, Isle of Man and the Channel Islands. Full coverage also included for major cities in Northern Ireland and Irish Republic.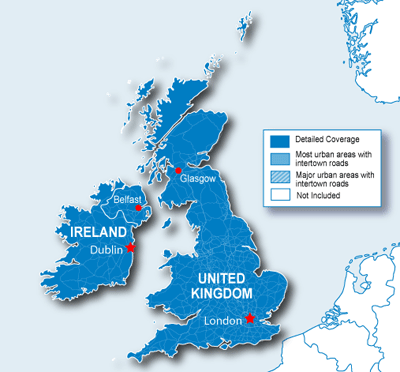 Works with the following Garmin models:
Astro; Edge 605/705; eTrex: Legend Cx, Legend HCx, Vista Cx, Vista HCx, Venture Cx; GPSMAP: 76CSx, 76Cx, 60CSx, 60Cx; iQue: 3000, M3, M4; nuvi: all models including: 200, 200w, 250, 250w, 260, 270, 350, 360, 370, 650, 660, 670, 750, 760, 770; Rino 520HCx/530HCx, StreetPilot: 7200/7500; c320, c330, c340; c530, c550, c580; i2, i3, i5; zumo 450/550.
MPN: 010-10691-00 UPC: 753759051105
Reviews
Perfect, December 09, 2007
Very detailed and perfect for getting around the windy roads of the UK.
"Great selection, unbeatable prices, fast shipping. I am extremely happy with Tiger GPS and am recommending them to everyone I know."
- Gary, West Virginia
"Prompt shipment, great communication and a willingness to work for the customer. I would definitely highly recommend Tiger GPS!"
- Karen, California
"It arrived earlier than I expected. I also like the fact that I got e-mail from them confirming my order and giving me their contact info right away. It seemed personalized which I like."
- Stephen, Massachusetts
"The most informative site I have come across. Prices are amazing too - not sure why you would shop for GPS anywhere else."
- Wendy, Louisiana
"These guys know their stuff. They answer their phone right away, and the knowledgeable reps helped me pick the right GPS and even saved me some money!"
- Robert, New York
"No other site is willing to ship to a military APO address, and GPS is crucial out here. Great prices - thank you for supporting the troops."
- Edwin, USMC in Iraq