Software & Charts
Garmin City Navigator NT Mexico Pre-Programmed Data Card
Garmin City Navigator NT Mexico Pre-Programmed Data Card
| | |
| --- | --- |
| | |
Details
Navigate the streets in Mexico with confidence using Garmin City Navigator Mexico NT. With this detailed data, you can literally travel to a new city, look up hotels, restaurants, and other services, and use your compatible Garmin GPS to guide you there - without stopping for directions! This data includes fully routable maps and comes preprogrammed on a microSD card with SD adapter.
City Navigator Mexico NT features include:
New detailed coverage for Mexico City, Guadalajara and Monterrey
Postal code coverage for major urban areas
Additional 250,000 km of road coverage, including new link roads like MEX-57 from MEX-40 to Eagle Pass, Texas, USA
Includes detailed maps containing highways, interstates, residential roads and other navigation features
Displays points of interest such as:

food and drink
lodging
attractions
entertainment
shopping
emergency services and more

Will automatically create point-to-point routes on compatible Garmin GPS units
Contains turn restrictions and speed categories
Coverage Map: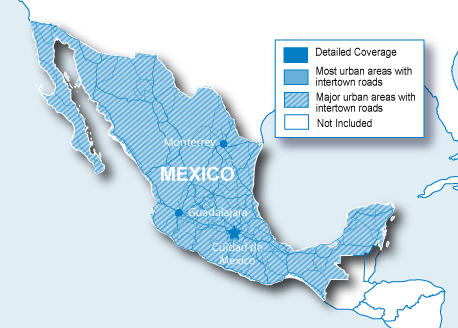 With City Navigator Mexico NT preprogrammed cards, you will be able to view and navigate the areas shown above. The data also contains features to automatically calculate routes on you compatible unit.
Detailed Coverage
Guadalajara metro area:
El Salto
Tlajomulco
Tlaquepaque
Tonolá
Zapopán
Mexico City metro area:
Monterrey metro area:
San Nicolás de los Garza
Apodaca
General Escobedo
Santa Catarina
Juarez
Works with the following Garmin models:
Astro; Edge 605/705; eTrex: Legend Cx, Legend HCx, Vista Cx, Vista HCx, Venture Cx; GPSMAP: 76CSx, 76Cx, 60CSx, 60Cx; iQue: 3000, M4; nuvi: all models including: 200, 200w, 250, 250w, 260, 270, 350, 360, 370, 650, 660, 670, 750, 760, 770; Rino 520HCx/530HCx, StreetPilot: 7200/7500; c320, c330, c340; c530, c550, c580; zumo 450/550.
MPN: 010-10755-00 UPC: 753759054571
Reviews
pretty good, May 05, 2008
We used this in Mexico last month and it has a lot of detail, even in smaller cities. Also, if you plan to navigate in the concrete jungle of Mexico City, you absolutely need this product.
The only bad thing is that addresses are set up a little differently in Mexico. Also, there are commonly multiple names for streets or neigborhoods-- so somtimes you have to be creative to find a specific address.
"Great selection, unbeatable prices, fast shipping. I am extremely happy with Tiger GPS and am recommending them to everyone I know."
- Gary, West Virginia
"Prompt shipment, great communication and a willingness to work for the customer. I would definitely highly recommend Tiger GPS!"
- Karen, California
"It arrived earlier than I expected. I also like the fact that I got e-mail from them confirming my order and giving me their contact info right away. It seemed personalized which I like."
- Stephen, Massachusetts
"The most informative site I have come across. Prices are amazing too - not sure why you would shop for GPS anywhere else."
- Wendy, Louisiana
"These guys know their stuff. They answer their phone right away, and the knowledgeable reps helped me pick the right GPS and even saved me some money!"
- Robert, New York
"No other site is willing to ship to a military APO address, and GPS is crucial out here. Great prices - thank you for supporting the troops."
- Edwin, USMC in Iraq