Navionics+ Flexible Coverage - CF
| | |
| --- | --- |
| | |
Details
New Navionics+ marine charts provide the latest cartography in an easy-to-download format. Simply plug in your chip, select the coverage area you need (up to 2 GB), then pop the chip into your plotter, and you're good to go! Please note that this product covers the United States only and is not for international use.
Navionics Freshest Data — When you buy Hotmaps Premium, Hotmaps Platinum, Fish'N Chip, Plus, Gold or Platinum products you are eligible for unlimited updates of the 2D Gold component and SonarCharts (see below) for a period of one year — this means you always have access to the Freshest Data. Simply go to Navionics.com, plug your chart into your computer, and the software will update automatically.
SonarCharts exposes incredible seabed detail not available on existing cartography. Navionics integrates its survey data with Hydrographic office data and sonar logs received from the Navionics Community which, when orcombined, reveal maximum detail. Online updates to the seabed are available daily allowing for timely bathymetric awareness for ever-changing conditions. All Navionics users can become explorers! Virtually anyone with a sonar device can plumb the marine depths to discover any kind of relief, hidden gorges, detailed mountains, canyons, or submerged structures never before mapped!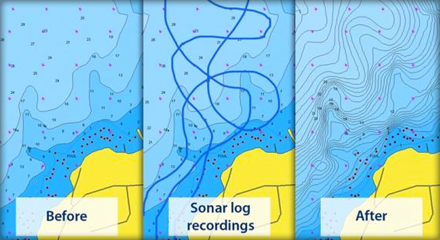 Navionics Plus contains everything on one card: Nautical Charts, SonarCharts and Community Edits. The Navionics+ program essentially replaces the Gold series; you can get all the same great Navionics Gold cartography but in a downloadable and easily-updatable format.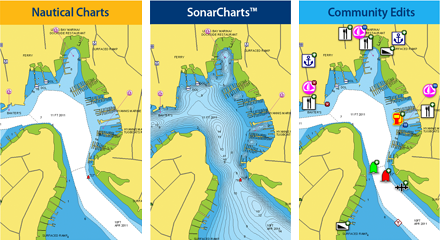 How to use Navionics+
Navionics+ on CF is recommended for (Nautical Charts and SonarCharts only):
Northstar: 6100i
Raymarine: GS95, GS125, GS165; G120, G150, G170, G190, GPM400; E120, E80; E140W, E120W, E90W; C140W, C120W, C90W; A70, A70D, A57, A57D, A50, A50D, C120, C80, C70
Navionics+ on CF also works (Nautical Charts only) with:
Northstar: 6000i
Raymarine: Raymarine 400, 435, 435i
If you're not sure what you need, or don't see your chart listed, check out our Navionics Guide (click here), call us toll-free at 877-632-2853 or email us at info@tigergps.com and a dedicated representative will help you.
Reviews
"Great selection, unbeatable prices, fast shipping. I am extremely happy with Tiger GPS and am recommending them to everyone I know."
- Gary, West Virginia
"Prompt shipment, great communication and a willingness to work for the customer. I would definitely highly recommend Tiger GPS!"
- Karen, California
"It arrived earlier than I expected. I also like the fact that I got e-mail from them confirming my order and giving me their contact info right away. It seemed personalized which I like."
- Stephen, Massachusetts
"The most informative site I have come across. Prices are amazing too - not sure why you would shop for GPS anywhere else."
- Wendy, Louisiana
"These guys know their stuff. They answer their phone right away, and the knowledgeable reps helped me pick the right GPS and even saved me some money!"
- Robert, New York
"No other site is willing to ship to a military APO address, and GPS is crucial out here. Great prices - thank you for supporting the troops."
- Edwin, USMC in Iraq