Automotive GPS Units
TomTom ONE XXL 550-T Lifetime Traffic Bundle with IQ/Lane Guidance
TomTom ONE XXL 550-T Lifetime Traffic Bundle w/ IQ Routes & Lane Guidance
| | |
| --- | --- |
| | |
Details
This listing is for a TomTom ONE XXL 550 with a lifetime live traffic update subscription. See below for other options.
Supersize your ride with the TomTom ONE XXL 550. The ONE XXL 550-S adds IQ Routing and Advanced Lane Guidance, as well as maps of Mexico, to a 5" diagonal screen for an ultimate navigation experience. Switch on and go right out of the box. The ONE XXL 550 updates the 540-S by adding TomTom's simple, two-button EasyMenu. Just a few taps and you'll be on the road to any destination!
The crystal-clear display, 3D graphics and turn-by-turn spoken instructions that include street names help you find your way to any address in the US, Canada, or Mexico - all with just a few taps of the screen. Foldable EasyPort mount makes it easy to take it with you from car to car. TomTom has the most accurate maps and with TomTom Map Share technology you can instantly modify street names, street direction, and POIs on your own device. And now, there are added safety features so you can easily access local emergency providers. No activation, no monthly fees.
Features
Text-to-speech - speaks street names for easy guidance
24/7 IQ Routes Technology
Advanced Lane Guidance
TomTom Map Share: instantly modify street names, street direction and POIs on your own device and benefit from others' corrections
"Help Me!" Emergency Menu: easily access local emergency providers such as police, fire stations and hospitals
Maps of the US, Canada & Mexico
EasyPort mount: foldable, slim mount for easy portability
POI icons: easily find gas stations, restaurants, hotels and more along your route. Customize by adding your own points of interest
TomTom HOME: ensure that your TomTom is always up-to-date and access additional features with this free software application
Traffic ready: optional RDS-TMC traffic receiver accessory keeps you up-to-date on traffic events to minimize potential delays
Daily Fuel Prices Optional Service: find the lowest priced gas on your route
Map Coverage
The TomTom ONE XXL 550S includes new expanded map coverage, including the latest maps of the US, Canada, and Mexico.
United States: All 50 states, the District of Columbia and Puerto Rico.
Canada: All 10 provinces and 3 territories
Mexico: 35% coverage of the 31 states with detailed coverage of Mexico City and Guadalajara, the main road network and 2,431 counties.
IQ Routes In-Depth Explanation
TomTom IQ Routes puts the driving experience of millions of TomTom users into your maps, calculating your route based on actual speeds driven on roads compared to speed limits. With TomTom IQ Routes you always get the smartest, most efficient route. Saving you time, fuel and money.
We all know traffic is different during a Monday morning rush hour from a lazy Sunday afternoon. We all want the best shortcuts to bring us to our destination in the fastest way possible. But heavy traffic, speed bumps, traffic lights, roundabouts and even schoolchildren or shopping crowds can slow you down. That handy shortcut you're looking for varies depending on time and day. Which means your shortest route isn't necessarily going to be the fastest all the time!
Let's take an example:
The standard shortest route from London Commercial Road, to Gloucester Terrace at a relatively quiet time, and without any hold-ups, should take you 20 minutes (screen 1).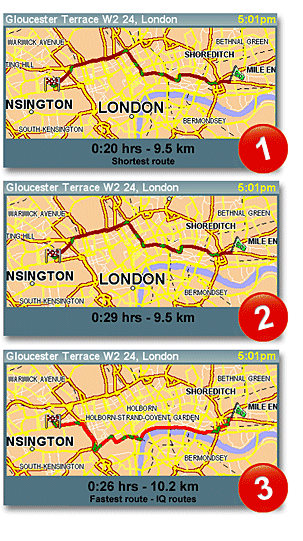 However, that same shortest route will typically take you 29 minutes during a busier period (reality) (screen 2).
Using local knowledge' gained from the actual travel experiences of thousands of TomTom users on these very roads, IQ Routes instantly works out your optimal route from London Commercial Road, to Gloucester Terrace. It also calculates your realistic journey time, based on real speeds people are able to drive, not just speed limits. (screen 3)
As you can see, in this case your route is now 0.7 kilometre longer, but will save you 3 minutes (and a good deal of stress!). Now that's a shortcut!
A real difference
3 Minutes may not sound much, but it's over 10% off your journey time. Just consider for a moment how much time that will save you over a whole year Exactly!
And it's not just urban driving. Whether its roundabouts, crossroads, schoolchildren or just good old-fashioned congestion. Anywhere the traffic flow can vary, IQ Routes can make a real difference.
How it works
Millions of TomTom users worldwide voluntarily provide us with anonymous historical speed-data from each of their journeys every time they connect their device to TomTom HOME.
As a result, TomTom now has a huge database, containing billions of miles of real customer driving experience, collected over the years from more than 7 million TomTom users.
Using this data, TomTom's unique IQ Routes technology calculates your optimal route. This route is based on actual speed data driven on roads, not just maximum speed limits, taking into account any hold-ups that might slow you down (busy junctions, zebra crossings and even shopping crowds).
This data enhances the quality of TomTom navigation across the board, but is particularly helpful in improving the quality of detailed routing we give you for the specific time of day and day of the week of your chosen trip.
Drive like local
So even if you drive through unfamiliar areas, you still can drive like a local by knowing the short cuts that are based on the collective driving experience of millions of TomTom users.
Did you know?
IQ Routes technology gives you a faster route in over 50% of all your journeys.
And don't forget: IQ Routes is just one of many groundbreaking TomTom technologies that make your journey quicker, easier, safer, more predictable and less stressful.
Advanced Lane Guidance In-Depth Explanation
TomTom's Advanced lane guidance gives you extra clarity when navigating difficult junctions. So you won't miss your turn or have to make sudden, dangerous lane crossings.
When you approach complex motorway intersections, you also get a still 3D image on your screen that clearly indicates the lane(s) you need to take. Advanced lane guidance keeps you relaxed and safe through even the most complex intersections and in even the heaviest traffic.
Let's take an example:
You're on the outskirts of Paris, driving on the "Autoroute du Soleil" towards Lille, when a complex junction approaches (see diagram).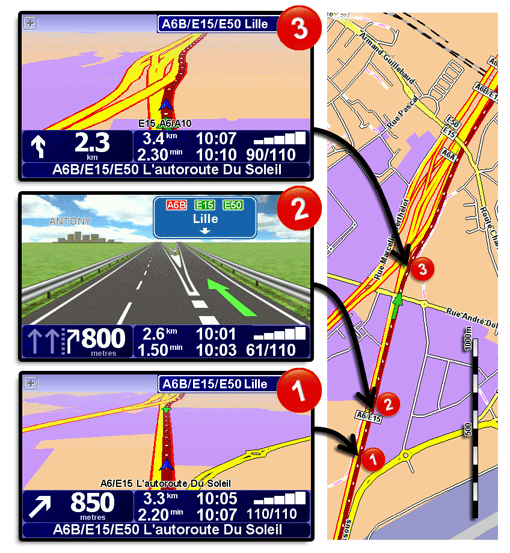 Screen 1
You have your normal 3D navigation view up to 800 metres from the junction.
Screen 2
From 800 meters until you're through the junction, your TomTom device displays a clear image of the junction. This shows the relevant road signs with numbers and directions, and a blinking arrow that clearly shows which lane you must take. Your screen throughout this has the still image and your status bar remains updated with dynamic information.
Screen 3
As soon as you're through the junction, your screen reverts to the normal view. What could be simpler, what could be safer?
MPN: 1EP001903 UPC: 636926039895
Package Includes
What's in the Box:
TomTom ONE XXL 550
Lifetime Live Traffic Subscription
Easyport mount
Car Charger & USB cable
Documentation
Adhesive Disk for dashboard mounting
Reviews
You May Also Be Interested In...
"Great selection, unbeatable prices, fast shipping. I am extremely happy with Tiger GPS and am recommending them to everyone I know."
- Gary, West Virginia
"Prompt shipment, great communication and a willingness to work for the customer. I would definitely highly recommend Tiger GPS!"
- Karen, California
"It arrived earlier than I expected. I also like the fact that I got e-mail from them confirming my order and giving me their contact info right away. It seemed personalized which I like."
- Stephen, Massachusetts
"The most informative site I have come across. Prices are amazing too - not sure why you would shop for GPS anywhere else."
- Wendy, Louisiana
"These guys know their stuff. They answer their phone right away, and the knowledgeable reps helped me pick the right GPS and even saved me some money!"
- Robert, New York
"No other site is willing to ship to a military APO address, and GPS is crucial out here. Great prices - thank you for supporting the troops."
- Edwin, USMC in Iraq